Commercial Basement Waterproofing
A lot of business owners don't give a second thought to having a flooded basement until it's too late, and this is why you need to put a lot of thought into commercial basement waterproofing today! Sure, the area you live in might not be at risk of flooding. However, your building does have plumbing pipes in it, and what if one of them broke open? You would have water filling your entire business! Also, you may have unsealed windows and doors which can easily leak every time it rains, or whenever there is melting snow. All of these situations can lead to you having a wet basement in your business.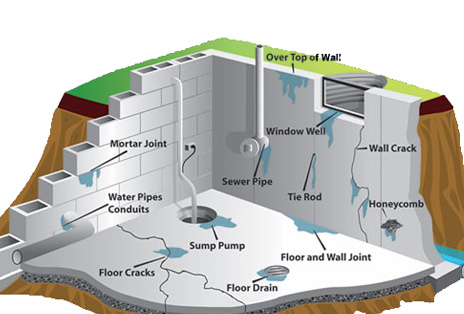 A wet basement can lead to structural damage, wood rot, and even mold growth. It's very dangerous for a business to have mold because it can cause a variety of scary medical conditions, such as: breathing problems, fatigue, headaches, sinus infections, skin and eye irritation, and so on.
Commercial Basement Waterproofing Company
Our waterproofing company strictly provides the most state-of-the-art and advanced systems. We have professionals who are able to easily install the following in your business setting:
Sump Pumps
Drain Tile
French Drains
Battery Back-up Sump Pumps
Commercial basement waterproofing shouldn't be left to just anyone. The Reliable Basement and Drain has many years of experience installing waterproofing products and systems of all varieties.
We are pleased to offer the following with all of our commercial projects in Ohio:
Detailed, written estimates
Our foremen average over 10 years of experience
Fully insured
Drug free workforce
Commitment to excellence
Minimum interruption to your existing business
Hear From Our Wowed Customers
Reliable Basement and Drain, a Veteran owned and operated company since 1999, has completed over 100,000 projects in Northeast Ohio. We service Lorain, OH, as well as Cleveland, North Olmsted, Elyria, Amherst, Vermilion, Westlake, Port Clinton, Sandusky, Huron, and the surrounding areas with Basement Waterproofing, Foundation Repair, Drain Cleaning, Plumbing, and Water Heaters. We are a One Stop Shop for all your plumbing and basement waterproofing needs. We do not hire sub-contractors, and our technicians are vetted and certified professionals. Contact us today to schedule your service or a free estimate.